Ludum Dare 34 - Frantic Farming
http://ludumdare.com/compo/ludum-dare-34/?action=p...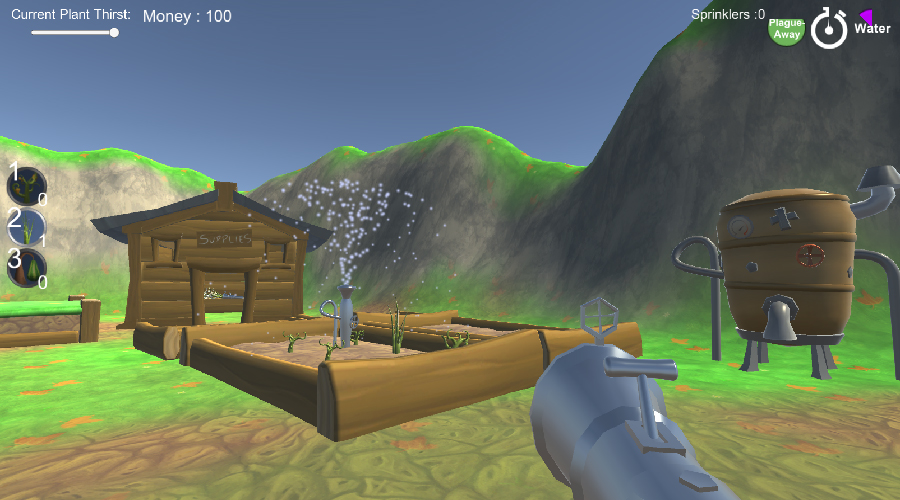 A fast paced farming game where the player must plant, grow and harvest crops. By harvesting crops, the player gains money which can be spent on extra seeds and supplies.

The player must keep their crops sufficiently watered and stop disease outbreaks before they can spread, by using their specialized farming cannon that can spray both water and "plague-away".

The farming cannon only has a limited supply of water and "plague-away" but it can be refilled. Water is free, but extra "plague-away" must be purchased.

The aim of the game is for the player to generate as much money as possible before the time limit ends.

- Controls -

WASD - Movement
Left mouse click - Water Cannon
Right mouse click - 'Plague-Away' Cannon
E - Interact
1-3 - Select seed type
T - Plant currently selected seed
R - Place Sprinkler
Esc - Unlock mouse


Had to turn shadows off due to a bug in which the shadows were showing through objects, if anyone knows the fix for this can you send a message. Thanks.

This was made by a team of two, its our first time doing Ludum dare and we ran into some issues and bugs near the end so there might be some in the game. Sorry about that. It was fun though, and we learned a lot.